Pandora Moraei Woodward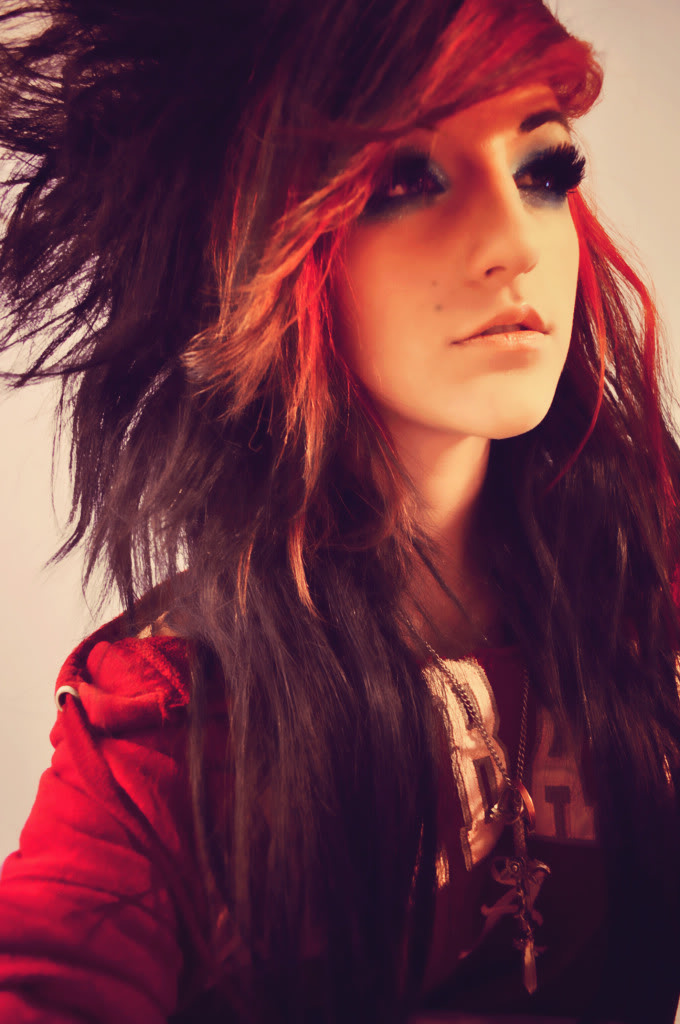 Information

Height: 5'9

Weight: 132


Age: 28 (Looks 20-23)

Ethnicity: Caucasian

Nationality: English


Gender: Female

Race: Human

Affiliation: None

Hair Colour: Black & Red

Eye Colour: Red (Glowing Red Contacts)

Favourite Colour: Red

Favourite Hobby: Mechanics and Tinkering
Personality
"Heyo!" ~ Pandora's outgoing demeanor makes her rather approachable, and she always treats others how she would like to be treated.

"Surprise, mudda'fucka." ~ While expressing great outgoing demeanour brings in a rather humorous side aswell; often trying her best to make her friends laugh.


"Beers are the better choice; you can drink more." ~ Pandora drinks quite often, mainly for fun in such an oppressive time.

"You fuckin' edgy bastard." ~ Sometimes she can become a little over-exaggerated randomly and she certainly shows this through physical remedies.

Loved, Close Friend, Friend, Acquaintance, Neutral, Disliked, Hated, Deathwish
Ryker Michaelis - "An all-around, family kind of guy. He understands how I am and who I am, and I respect him."
Larissa Kinley - "Larissa's pretty rad'. She quite adores my blood and we get along pretty nicely; I look forward to becoming close friends with her."
Dawson Malbek - "A really fun guy, maybe cute too. It's a shame he's on a date with someone else. Besides that, he's a real fun friend and I'm grateful for him to be around."
Safiria 'Red' Vestrolska - "Well; could be less of an edge-queen and more of a talker."
Seras Rosenthal - "Just one of those friends who understands and is fiercely loyal to their friends. Seras is one of those awesome kinds of people."
Jay Matthews - "We seem to be getting further apart from each other, and I can't help the fact that he hates me. Hmmph."
Viktor Soco - "We're dating at the moment and he is so much fun. I like him alot and he likes me back."


Seth Jacobs - "He's alright for a militaristic dude. We ain't talked much but I'm sure we'll get along nicely."


Sarafina 'Sara' Crawley - "We get along nicely and she understands how I work."



'Ephrael' - "Quite a cool girl; mercenary too. We get along quite smoothly."
Nicolo 'Izzy' Isi - "Thanks for being there, Izzy. You show me who I am and you care about my safety which really makes me feel glad to've met you."
Nicole Deveraux - "A manipulative woman who looks in her twenties but thinks she's an old woman by being a superior Dremor. We'll see."

James Frost - "Getting better, I guess. He'll stay on my neutral list."
Zelana T. Stone - "Ruffian type of girl. She doesn't take shit and I'm pretty relaxed around her. Despite how she is around me, others don't seem to look at her as the popular type, but she gave me some kick-ass apparel and I should be grateful."

Last edited by Yøshї on Sat Sep 13, 2014 2:36 pm; edited 28 times in total