Steam Name:

Cat of Catterton
Steam ID
:
STEAM_0:1:49292380
How long have you been roleplaying?

About 8ish years.
Any experience having this auth before?

Nope
What are you applying for?:

To be given the right to have a 
Rakshasa
 is a demonic being from H
indu Mythology
.
Why should you have this?

Well, I feel I have a decent backstory for him, and I feel as if I'd handle the role well.
Powers
(I could go with the lore-wise powers, but flying and vanishing seems to be like it'd be hard to do and OP, so I made some adjustments)


Superior Strength(*Sorta Lore*Equivalent to a Vet. Augustine) 

Superior Speed(*Sorta Lore*Equivalent to a Vet. Augustine)

Powers of Illusion(Lore Power)

Shapeshifting(Lore Power)

Can make pacts with people, giving them some outrageous thing in return for their soul(I'll have to work out with an admin how pacts would work.)

While in Rakshasa form has long claws and fangs capable of tearing through most Kevlar.

Weaknesses


Being a Demon, unable to step on holy ground.

Things blessed by a priest of any "holy" religion, as in if a satanist preacher blessed your knife it won't hurt as much if a Islamic/Hindu/Christian Priest did.

Restrained from access to full strength by an unknown mage.

Must eat human flesh at least twice a day OOC, or enters a bloodlust, being easy to hurt, but dangerous. (Lore thing, they are cannibals and have an INTENSE bloodlust)

Unable to effectively use guns, IE the claws get in the way.

Death=Death Rakshasa's exist on Earth and when they die they die.

Neutral


Not necessarily evil, Rakshasa's have been known to fight for good and even called hero's.

Does not take orders from your basic Demons/Demon Lords.

Cannot turn people into shit.

Thul'zald is not very good at speaking and will refrain from doing so unless he feels he needs to, or can make the words come out right, which they hardly ever do.

Thul'zald DOES NOT LIKE TO FIGHT! So don't hurt his feeling dammit, because he may not like it, but he'll beat the shit outta you and eat you.

Here is a picture to get a general idea of what he'd look like in Rakshasa form, since the Hindu pictures are hard to understand what's going on, at least to me, here is a picture of what he'd look like.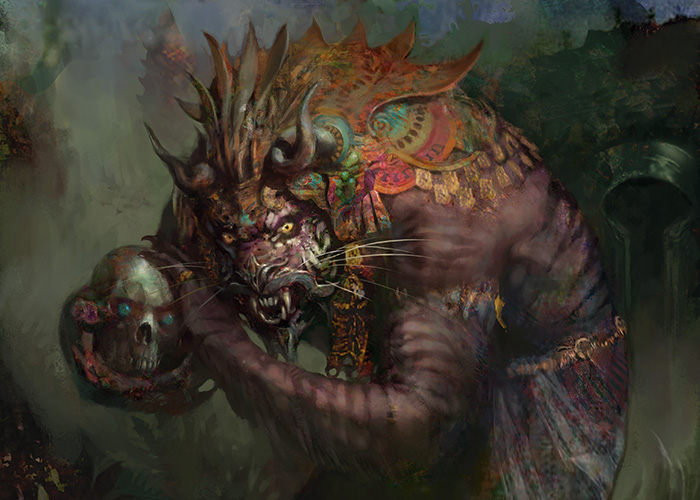 Copyright, Wizards of the Coast, I do not own this image and it is used purely for educational purposes.
Backstory:
(This is gonna Thul'zald describing himself.

                 Thul'zald was born like the rest of his kind, he ate like the rest of his kind, he fought like the rest of his kind, but Thul'zald was not like the rest of his kind. Thul'zald did not like eating human so much, human are stringy and get caught in teeth, he also not like fighting all time and damning souls. So Thul'zald leave kind and walk for a long time, finding new things and people, he hardly talk but when he do Thul'zald like to think he say something smart, at least understood. Thul'zald fluent in tongue of Rakshasa, Thiirk siargu theriantu? (*BS I just made* "Do You See?) Human make such hard language, make Thul'zald confused, he walk long time, see great people die, one name Caesar, he salad now. Thul'zald never like killing human, it seem wrong, so he eat animal. Animal only make hunger go away some Thul'zald went week with no human, he black out and woke up covered in human blood, skulls and flesh ripped apart all around Thul'zald. So Thul'zald eat human every six days, humans eventually stop putting dead in weird places or burning body, instead clump bodies together in one place, this make Thul'zald job easier, it did not. Human watch over dead, stop Thul'zald from eating so he had to kill watcher and eat them too.                  Luck was on Thul'zald side, human make way to keep meat cold and not rot Thul'zald went and got one, he had to steal but it was worth it and was funny. Maybe he become like one of hero Rakshasa from stories now? Me put human in cooler, last longer not have to eat all human at once, instead one human last Thul'zald two months. Thul'zald try to go through human school to learn to speak better, it did not work he was too, "Odd." Thul'zald life not all be sad, he find new place to call home, a place of human and werewolf and vampire, Thul'zald think he sense demon, but not Rakshasa demon, different kind. Here Thul'zald can find human flesh it given to him. There even place where human give blood, Thul'zald like this place, there almost always fights though, but Thul'zald is Rakshasa, is anyone fight him he will tear off head and drink blood from skull. This will be new home, this will be where Thul'zald find peace.
Sorry for the shitty backstory.
Do you agree that you will use these responsibly, and understand these can be taken away at any time?
Yes
Last edited by CatHitman on Sun Oct 26, 2014 11:58 pm; edited 10 times in total